CPM analysis
Acumen Fuse: Accountability and Schedule Integrity
Fuse is a fully-loaded CPM analysis and forensics utility that delivers as advertised, which is to say quite a lot. With its informative help hover-clouds it is as robust, as it is user-friendly. Fuse comes from a solid player in the industry, Deltek, which maintains its infrastructure, and is supported and by many of the original Acumen team-members. Many of the operations it performs would take even a top scheduler exponentially longer than the fractions of seconds Fuse crunches data, a key benefit which promises, at some given point, to pay for itself.
Acumen Fuse is the preferred CPM analysis tool of choice for by large firms such as Gilbane, and Hill International, as well as many Federal agencies, such as GAO, DOD, and NASA. That being said, Fuse isn't confined to mega-projects, in fact, the size of the project seems to have little effect on operations. However; smaller ventures likely will not go in for full-depth analysis over the course of the project, nor should they need to.
Although Fuse is rather a bundle in itself, remember that Fuse is one-third of the Fuse + Risk + 360 bundle, which Deltek discounts, as compared to a la carte purchases. Clearly, the bundle isn't for everyone. By itself, Fuse requires an investment in software and training that many small companies may not be willing to make.
Moreover, Fuse is only a worthwhile investment if you a) can produce baseline schedules with a reasonable degree of exactitude, and b) have or plan to hire personnel who know how to make substantial use of scheduling and forensic CPM analysis software. If you want to develop and publish validated schedules, Fuse is for you. If your baseline schedules are frequently rejected, Fuse can tell you why, and help make you a better scheduler.
Surfing Fuse's Tabs: Intuitive Project Oversight for Even the Most Uninitiated
Compared with front-end home pages of competing interfaces, Projects is a sight for sore eyes. Importing your timeline into Projects is kind of like wheeling your project into the emergency room. Let it be said that a periodical physical of your schedule through Fuse's metrics and analyzers has a better prognosis than cardiac arrest, i.e., start using Fuse with your baseline. Fuse can't really save a deprecated schedule that had little or no likelihood of playing out.
For your CPM analysis you create your scenarios (what ifs, reflection schedules) in Projects. Although you can run Cleanse right then and there, you may prefer to run the project through the Logic tab, to see the specific nature of the problems that Cleanse suggest you correct.
Logic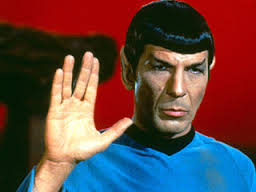 Logic also points out remedial shortcomings, such as reverse logic (loop), negative lag, and redundant links. Logic gives a scheduler a masterful overview of the of the logic integrity, with its ribbon analyzers, as well as statistics and ranking, on the different sorts of links, leads, and lags that hide inside a Gantt chart. It is here that you can drill down on sequences that need to be corrected either with Cleanser, manually, or more typically, a combination of the two.
Diagnostics
The phased and ribbon analyzers Diagnostics uses gives you a consolidated view under the hood of your  schedule , and how it stocks up against Fuse's metric analyzers to work. The beauty of this module is the ease of tweaking the metric trip-wire thresholds. What this means in simple language is that you can massage your metric libraries to suit your circumstances, as no one size fits all. That being said, it's interesting to think about how Acumen parses its crowd-sourced schedules in its Cloud database, when metrics are adjustable.
If you're going to adjust the metrics, do it in a way that you know is realistic, and cannot be challenged by third-parties. In other words, if Acumen bases its metrics on industry standards, and you have strayed from them, you might find yourself to have some explaining to do. So be careful not to abuse the ability to tweak the trip-wires to boost your schedule rankings. Inevitably, any egregious tweaking is likely to come out in the Benchmarking wash.
Dashboard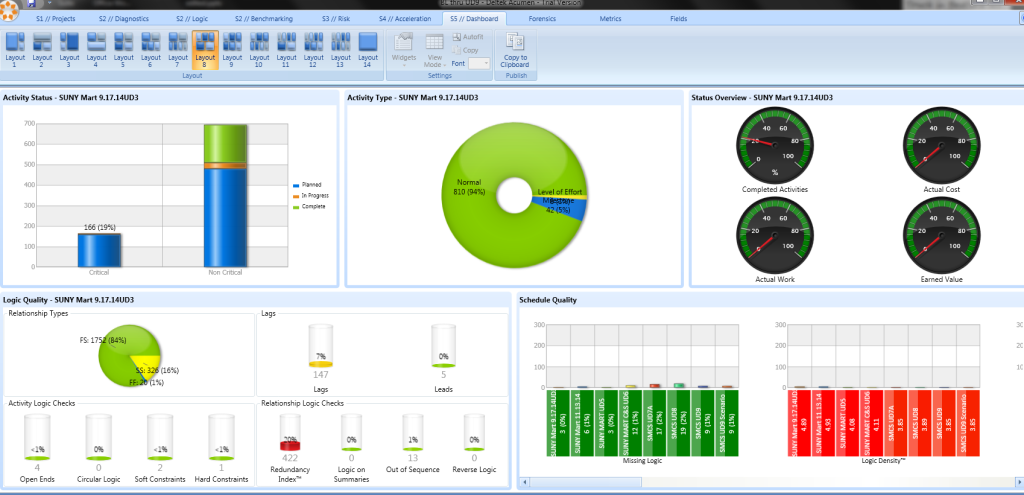 Dashboard, as the name implies, gives you various widget layouts representing project statistics, as well as an endless combination of metrics and data you have generated in your project, on one screen. Upper management and owners like to see bottom lines, and Dashboard is where you give it to them. In a pinch, they could skip the tedious update meetings and minutes, and simply glance at the Dashboard every morning.
Benchmarking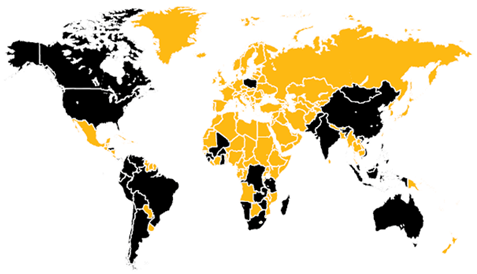 I like to use benchmarking as one measure of quality and probability for my schedules, which is done here in Logic Sensitivity™, and, in Acumen Cloud's database, which is continually updated. The simple graphs in Benchmarking give owners another big-picture view: likelihood of success.
Metrics

Metrics are important for assessing the level of quality of a schedule and basic CPM analysis. They are a good way of representing the integrity of your schedule, which you can share with your client. There are a great many useful ones (300+), and they all do different things. Included are standards, such as the DCMA-14 that may be used as validation, as many other Fed agencies do.
Most important is the ability to tweak the trip thresholds for the metric analyzers to suit my projects' needs, as well as mix and match which to show in my ribbon analyzers.
Forensics
Forensics is the center for delay analysis. It crunches, filters, and sorts, a broad spectrum of critical data tailored to meet my specific tracking needs. The Excel output gives you operability and customization that is as organized as it is user-friendly. Furthermore, Forensics data will enhance your current level of validation for your claims, which means that instead of a ROI of $ 0.10/$1 for delay claims, you're more likely to average $ 0.50/$1, because if your data cannot be refuted, and your claim is legit, you must settle for no less than a 50/50 split.
My Acumen Fuse Top 10 CPM Analysis Features List
Tidying up any loose ends with Cleanser in one mouse-click, or zeroing in on errors and omissions.
Tweaking the threshold trip-wires in Metrics to match the specific nature of a given project.
Comparing schedules from different platforms, e.g., MS Project vs. P6.
Drag and drop metric on the ribbon analyzers.
Dashboard: data sets never looked so appetizing to the end-user.
Ratings and validation: the quality of a schedule is no longer a matter of opinion, but is measurable.
Scenarios and their probability of success as measured in Benchmarking.
Comparing scenarios of multiple updates with the baseline in the Forensics tab, and outputting the comprehensive forensic analysis report in to Excel.
The executive briefing tool is useful as it is accurate and succinct. A boon to those with less than satisfactory narrating and publishing skills.
Outputting Fuse afw scenarios into their native file-types.
You may download a nearly full-function trial version from Acumen's download page here. This optional convenience is offered as a limited arrangement  with Acumen, for this series.