Contract Management Publications
In 2006, McGraw Hill Technical Book Group published the first of Derek Graham's Contract Management Publications:
Managing Residential Construction Projects; Strategies & Solutions
The eight chapter book is used as an instruction tool in trade schools and university construction management programs – Undergraduate, Graduate, and Continuing Education.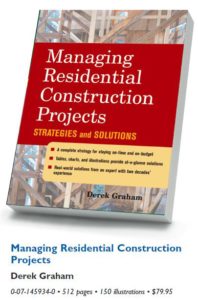 from the text
"Opulent magazine spreads of lavish apartments, appointed with fine finishes. Every month, periodicals are bursting with them. But if you venture behind the scenes, things are seldom as pretty as the picture, which also may pale at closer observation. To be sure, the aesthetics of published work tend to run only skin deep. Any seasoned architect or contractor will tell you that a large percentage of projects are nearly always wrought with mistakes, acrimony, and innuendo, not uncommonly, ad nauseum. The terms 'Kafkaesque,' and 'Murphy's Law' come to mind; as does 'a veritable Comedy of Errors.'

These seemingly extravagant and complex projects tend to be so ridden with the dual strife of being over budget, and late, that to finally finish them is a Pyrrhic victory, leaving everyone but the project team beaming at the end result. Why is the construction industry, particularly the residential sector, so prone to this fate? There is no simple answer.
Click here to view the book available now on Amazon, where you can also read samples of the text.
---
Other Contract Management Publications
Published handbooks available on Kindle (2017)
Construction Contract Dispute and Claim Handbook Series : Primers on the Nature of Construction Contract Disputes for Attorneys, Home Owners, & Contractors, according to their CSI Masterformat Divisions and designations
click links below
Division 01 – General Requirements (published)
Division 02 – Existing Conditions (published)
Division 03 – Concrete (published)
Division 04 – Masonry (published)
Division 05 – Metals (published)
Division 06 – Wood, Plastics, & Composites (published)
Division 07 – Thermal and Moisture Protection (published)
Division 08 – Openings (in progress)
Division 09 – Finishes (to be published in a series)
Division 10 – Specialties
Division 11 – Equipment
Division 12 – Furnishings
Division 13 – Special Construction
Division 14 – Conveying Equipment
Division 21 – Fire Suppression
Division 22 – Plumbing
Division 23 – Heating, Ventilating, and Air Conditioning (HVAC)
Division 25 – Integrated Automation
Division 26 – Electrical
Division 27 – Communications
Division 28 – Electronic Safety and Security
Division 31 – Earthwork
Division 32 – Exterior Improvements
Division 33 – Utilities
*only the Divisions shown to be published
more publications at DerekGraham.net
---
… also available on Kindle
The Relative Symbolism and Impermanence of Megaprojects: from Goebetlitepe, to the Freedom Tower (2015)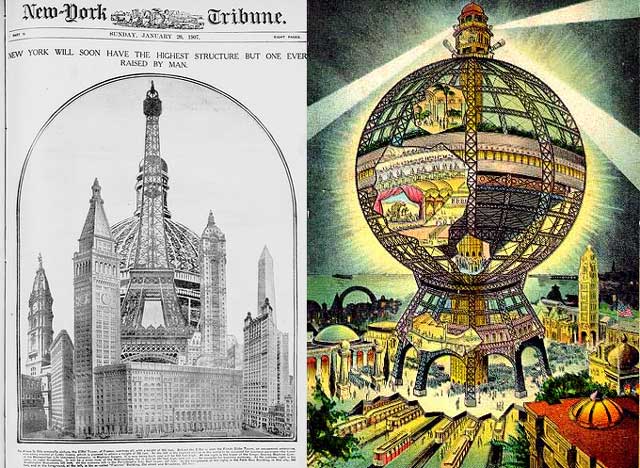 Graham brings his penchant for historical perspectives and humanistic insights into the fascinating study of great works that are commonly called 'megaprojects.' He reaches back to his studies in comparitive histories, Egyptology, and British literature to reveal a richly textured retrospective of some of the greatest achievements (and flops) in building and engineering history.
from the text
"Past megaprojects are lost in our collective consciousness and lexicon in the same way that Antipater's 2nd century BC so called Seven Ancient Wonders of the World, have all but vanished, succumbing to earthquake or fire. How many can you match with the photos above?

In my mind, had these sites not perished they would still be the Ancient Wonders. In our time, a former megaproject is more likely to become a footnote once it is no longer trending on Instagram, than it is to die a natural death, as did six of the Ancient Wonders.

[i] The actual location of the Gardens was never verified.
---
CPM Construction Scheduling Survival Guide: Strategies for Managing & Optimizing Time and Budget (2016)
Get the inside dope available nowhere else on how the critical path flow and inner workings of CPM construction schedules drive projects to success, or merely memorialize their failure to luanch. Graham makes othetrwise esoteric and complex theories more accessible to industry professionals and lay-people alike. Given the paucity of contract management publications that are available, the book is a welcome addition to any project team member who wishes to learn the finer nuances of project controls.
from the text
Project scheduling is a difficult and misunderstood component of the construction process, and for that reason it stands out as a problematic issue. The most efficient companies will have a schedule for each of their projects, and will update these schedules every month, whereas the least efficient will have only a start and finish date to work with. Simpler projects may not require complex schedules; in fact, they may not require one at all other than the contract start and end dates.

Even if a schedule is generated, the likelihood of it governing the logic of a project is dubious; i.e., it may look good on paper…If a contractor is proactive and uses a schedule, he stands a better chance of controlling the network logic of his project, and is in a better position to make informed responses to problems. If a contractor's approach to a project is reactive, such that the project itself dictates the program, his schedule will not have been used for its intended purpose.
---
Residential Construction Business Survival Guide: the Ultimate Handbook for Small Contractors (2016)
Specialty contractors, or subcontractors, comprise a majority of builder entities, yet despite that, available contract management publications and relevant content remains elusive, and under-represented in the canon. Graham seeks to change that by providing plain speaking language and discussions to concpets that remain out of reach to them for lack of a consensus in paradigms.
from the text
What is odd about today's residential sector is its composition of contractors. The building boom of the eighties offered such promise of fortune to aspirants, that many who had little or no construction or business experience entered the fray. Historically, general contractors knew their business. Often they were family businesses passed down through generations. This was beginning to change. In the eighties, the industry was becoming saturated with inexperienced general contractors. Quality and safety were regularly compromised to an indecent extent. Cost driven and low-end projects, with no skill requirements perpetuated this phenomenon. Much of this had to do with the real-estate boom: property values were increasing in value and changing hands so rapidly that it didn't seem to matter how their buildings were put together. All the owner's needed was a Certificate of Occupancy. Most of these hacks, learning the hard way, have gone back to the livery or art studio occupation from which they deviated.