Construction expert witness
Construction expert witness Derek Graham has been serving as a technical construction expert, since 2006. He provides case preparation and management, analysis reporting and testimony for both plaintiff and defense attorneys. He is typically called to provide reports for construction defects, damage valuations, accidents, and construction project delays, but has now testified on product defects, as well. In addition to forensic data analysis, he maintains a bench and workshop/lab where he assembles, disassemble, and documents material, equipment, and product analysis.
Mr. Graham, is a four-decade seasoned, industrial and construction expert witness, who has reported on over thirty litigations, testified Federally, and in several states.  He has been active in the construction industry since 1982. His many years in the field working his way up from laborer all the way to the executive level gives him a broad aspect with which to give fair consideration from many perspectives, including designer, builder, specialty contractors, and owner.
Construction Expert Witness Services
breach of contract
standard of care
contract compliance
deley/disruption
change orders
code compliance
Property Condition Assements (PCAs)
product defect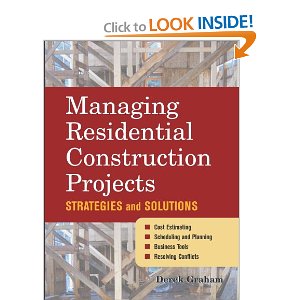 Graham has an interesting perspective toward his work. He states in his book, Managing Residential Construction Projects, published by McGraw-Hill, in 2006:
Some measure of failure seems to attend nearly every project that is built. I have seen them fail every way possible, whether it can be attributed to the contractor, design team, owner, or all parties. Typically, such failures tend not to be unilateral, and that notion colors many construction cases with a complex set of circumstances. It takes a critical eye to see through the endless obfuscations that cloud truth.
"Be objective: This is the criteria that he sets store by, and is also the standard by which he bases his findings and arguments, which are recorded in articulate reports, argued in arbitration and mediation proceedings, and related in compelling, eloquent testimony. His arguments are studied, confident, and technically savvy, but also user friendly to the lay person – this from years of hands-on field and administrative experience with diverse projects, and many client relationships and interactions.
Construction expert witness Graham's British Literature background enables him to exercise his critical insight in complex construction litigation, by presenting professionally written, and concise technical reports and executive summaries, and providing compelling arguments with eloquent testimony and rebuttal.
Case Examples Mr. Graham Helped Win or Settle
(also see delay & disruption claims examples)
Defects
– a poorly executed conversion of a Lincoln Center area townhouse masquerading as "Luxury Condominiums," was found by Mr. Graham to have patent defects. The developer made futile attempts to rectify the matter. As a consequence, the new owners demanded and received a significant rebate on the price of the condominium – in this case the cost of which was estimated by Mr. Graham.

---

-a Lake Tahoe couple were sweet-talked into letting a contractor play 'design-builder' for their valley ridge top home. The work – both design and execution – were to be of the 'high-end' caliber, which affected the contract price. The couple complained of patent defects, and sought a construction expert witness to help them with their case. The attorney knew of Graham's book, and reached out to him, despite being a bit geographically undesireable.

Graham was flown out a day after a great blizzard, to inspect and document the defects and prepare a construction expert witness 'cost-to-cure,' or the remedial costs to make the work consistent with 'high-end' quality. Mr. Graham's report and deposition were compelling enough to induce a settlement.
Errors & Omissions
-a dream homeowner felt they were underserviced by their architect, whom they had paid significant fees for what Mr. Graham ultimately found to be utterly unconstructable drawings. The unhappy owners had sat by for months, as the design team failed to issue designs they approved of, while at the same time far exceeding their budget. Having seen tens of thousands of drawings through his career, Graham was easily able to refute counterclaims. His report and input at arbitration was key to induce a quick settlement in the plaintiff's favor.

---
Other construction expert witness cases
Damages: workmanship
-a NYC medical office included two recently installed GE MRIs. The office was reconfigured to accomodate the MRIs, including a relocated toilet. The toliet required a new tie-in to an existing four-inch waste stack. In the course of prosecuting that work, a mechanic had incorrectly connected the toilet outlet to a five-inch storm offset.

Subsequently, over a weekend when the office was closed, and during the first significant rainfall since the tie-in, stormwater from the roof forced an object into the standpipe, settling floors below the medical office. As the water backed up the storm riser it began returning up through the relocated toilet.  As it did, the water began to pool on the floor several inches above the bottom of the equipment, allegedly damaging it considerably. The owners' attorney sough a construction expert with plumbing experience.

Mr. Graham demonstrated how the engineer's drawings clearly showed the new toilet to be tied in to the four-inch waste stack, not the five-inch storm which he had shown for reference. Graham knew that five-inch is almost never used for waste stacks – four-inch and two inch increments thereafter are standard, and five-inch is special order.